Iyengar 1-2
This class is taught by:
I became a certified Iyengar teacher in 1995. I had the immense privilege of being personally instructed on several occasions by B.K.S. Iyengar, most intensively during the photo shoot for the book, "Iyengar Yoga: The Path to Holistic Health." I love the versatility of yoga; it can be used to alleviate suffering on a physical level, but is also the most sophisticated tool for self discovery on psychological and spiritual levels as well. There is much joy to be found in the persistent practice of this transformative and noble healing art, science, and philosophy!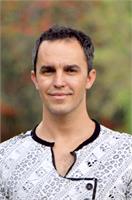 I was first introduced to yoga at age 12, and practiced Martial arts and Yoga throughout my teens. When I moved to LA in 1996, I discovered Iyengar yoga and was drawn to its integrity and intelligent sequencing. It helped me heal my chronic ankle injury and taught me how to deal with my mild scoliosis. In 2001, I went to Pune, India and spent a month studying with the Iyengar family. A few years later I became a certified Iyengar teacher and have been teaching professionally and full time since 2006.
For me yoga is a way to connect to my true self, and I try to live by its principles. I love sharing it with new students, and try to challenge my students to leave their comfort zone and learn the poses in a progressive manner, step by step.
For students who have a solid understanding of the fundamental poses taught in Level 1 along with a base of strength and flexibility from regular attendance. In this class, students will deepen their understanding of the mind-body connection in an expanded study of foundational poses including standing twists, backbends, and headstand.
Upcoming classes:
Wed

Aug 23 7:00 am - 8:30 am

with

Leslie

Peters




Wed

Aug 23 5:30 pm - 7:00 pm

with

Vladimir

Jandov




Sign Up

Fri

Aug 25 7:00 am - 8:30 am

with

Leslie

Peters




Sign Up

Mon

Aug 28 7:00 am - 8:30 am

with

Leslie

Peters




Sign Up

Wed

Aug 30 7:00 am - 8:30 am

with

Leslie

Peters




Sign Up

Wed

Aug 30 5:30 pm - 7:00 pm

with

Vladimir

Jandov




Sign Up

Fri

Sep 01 7:00 am - 8:30 am

with

Leslie

Peters




Sign Up

Wed

Sep 06 7:00 am - 8:30 am

with

Leslie

Peters




Sign Up

Wed

Sep 06 5:30 pm - 7:00 pm

with

Vladimir

Jandov




Sign Up

Fri

Sep 08 7:00 am - 8:30 am

with

Leslie

Peters




Sign Up

Mon

Sep 11 7:00 am - 8:30 am

with

Leslie

Peters