Sciatica and Lower Back Pain: Finding Relief
This class is taught by: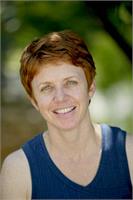 Anna Delury is one of Southern California's Senior Iyengar Yoga teachers and a founder of IYILA. She has traveled regularly to Pune to study with the Iyengar family since 1982. In 1988 she received a BSc. in Kinesiology from UCLA. Known for her insight and wry sense of humor, Anna brings a practical application of yoga philosophy into each class, as she helps guide students to a deeper understanding and awareness of what lies within each of them.
Sunday, May 21st, 2017
1-4pm
All Levels welcome
Early Bird $55, Drop-in $65
Sciatica and Lower Back Pain: Finding Relief
Led by Senior Iyengar teacher, Anna Delury
"Words alone cannot convey the value of yoga - it has to be experienced" B.K.S. Iyengar
Back pain is one of the most common modern day ailments. From mild irritation to painful debilitation, it can interfere with every aspect of life. In this workshop, Anna will focus specifically on lower back pain and sciatica, which is often felt in the buttocks and down legs as well as in the spine. Former sufferer of sciatica herself, Anna will share techniques she learned from B.K.S. Iyengar that help manage and alleviate the symptoms while also building a solid foundation for a healthy yoga practice.
Anna Delury is one of Southern California's Senior Iyengar Yoga teachers and a founder of IYILA. She has traveled regularly to Pune to study with the Iyengar family since 1982. In 1988 she received a BSc. in Kinesiology from UCLA. Known for her insight and wry sense of humor, Anna brings a practical application of yoga philosophy into each class, as she helps guide students to a deeper understanding and awareness of what lies within each of them. Anna has just returned from 6 weeks in Pune, India. She also wrote an article for Yoga Journal about sciatica and lower back pain here.
http://www.yogajournal.com/article/lifestyle/easy-rider/