Beginners Yoga - 3 Week Course
This class is taught by: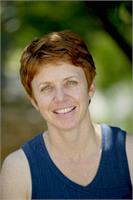 Anna Delury is one of Southern California's Senior Iyengar Yoga teachers and a founder of IYILA. She has traveled regularly to Pune to study with the Iyengar family since 1982. In 1988 she received a BSc. in Kinesiology from UCLA. Known for her insight and wry sense of humor, Anna brings a practical application of yoga philosophy into each class, as she helps guide students to a deeper understanding and awareness of what lies within each of them.
3 weeks course of Beginner Yoga w/Anna Delury
* Namastday memberships & packages accepted.
"Yoga allows you to find a new kind of freedom that you may not have known existed."- B.K.S.Iyengar
Whether you are just beginning to practice yoga, returning after a break or simply want to learn more for your own home practice this 3- week course is for you. It consists of 6 classes, each one building on the previous with instruction in the postures and breathing exercises that create the building blocks of Iyengar Yoga. The use of basic props to enhance their effects will be covered, as well as your individual needs and concerns.
1st session starts May 9th-25th (6 classes)
2nd session starts July 11th -27th (6 classes)
*Anna Delury will be offering an All levels Iyengar yoga class Tues/Thurs June 6th-July 6th
*Anna Delury will be offering Iyengar 2/3 May 30, June 1, August 1 & 3.