Level 1 with Restorative
This class is taught by: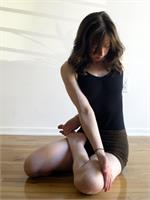 I began organizing my days around yoga practice after my very first Iyengar class eighteen years ago. My thoughts on how to approach asana and pranayama have deepened since the subjects were fresh and new: living with injuries and inherited conditions, I realized my attitude towards myself before, during and after practicing needed to change. Yoga Sutra 1.33 sheds light on how these changes might be cultivated and incorporated.
I have had opportunity to study with the Iyengar family many times in India, China and the U.S. Her other teachers, to whom I am deeply grateful, include Paul Cabanis, Karin O'Bannon, Kofi Busia, Faeq Biria and Manouso Manos.
I am a Junior Intermediate III certified Iyengar teacher.
A less rigorous class with focus on relaxation. The poses are held longer and supported using props to deeply rejuvenate and calm the body and mind.
Upcoming classes: