Vladi J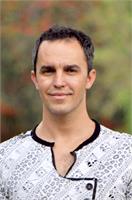 I was first introduced to yoga at age 12, and practiced Martial arts and Yoga throughout my teens. When I moved to LA in 1996, I discovered Iyengar yoga and was drawn to its integrity and intelligent sequencing. It helped me heal my chronic ankle injury and taught me how to deal with my mild scoliosis. In 2001, I went to Pune, India and spent a month studying with the Iyengar family. A few years later I became a certified Iyengar teacher and have been teaching professionally and full time since 2006.
For me yoga is a way to connect to my true self, and I try to live by its principles. I love sharing it with new students, and try to challenge my students to leave their comfort zone and learn the poses in a progressive manner, step by step.
Vladi J instructs the following:
Performing the yoga poses using ropes helps strengthen the major organs of action, the legs and the arms. The ropes help the body to extend vertically and horizontally. Our Teachers will guide you through a rope sequence that will open the body organically, leading to an open heart, better breathing and a quiet mind. The classes will be active and fun.




For students who have been studying Iyengar yoga for a minimum of 6 months. This class offers a deeper and more expanded study of standing poses, inversions, backbends, seated twists, forward bends, and beginning arm balances.




For students who have a solid understanding of the fundamental poses taught in Level 1 along with a base of strength and flexibility from regular attendance. In this class, students will deepen their understanding of the mind-body connection in an expanded study of foundational poses including standing twists, backbends, and headstand.