Anna Delury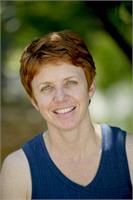 Anna Delury is one of Southern California's Senior Iyengar Yoga teachers and a founder of IYILA. She has traveled regularly to Pune to study with the Iyengar family since 1982. In 1988 she received a BSc. in Kinesiology from UCLA. Known for her insight and wry sense of humor, Anna brings a practical application of yoga philosophy into each class, as she helps guide students to a deeper understanding and awareness of what lies within each of them.
Anna Delury instructs the following:
For students who have a solid understanding of the fundamental poses taught in Level 1 along with a base of strength and flexibility from regular attendance. In this class, students will deepen their understanding of the mind-body connection in an expanded study of foundational poses including standing twists, backbends, and headstand.