Affi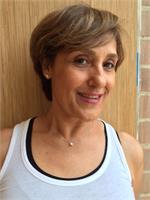 Affi initially started her yoga practice in the Iyengar tradition in 1998 in Honolulu. Upon moving back to Los Angeles, she continued to study with Chris Stein and Eric Small among others, as well as travelling to Pune twice to study with the Iyengar family.
She continues her studies under the tutelage of her senior teacher Mahyar Raz, an Advanced Junior II teacher; who heads the Toronto studio.
Her travels, the influence of a diverse group of teachers as well as the changes in her own practice in the last 20 years, has given her a sensibility to adjust her teaching to her students' needs while still keeping her class progressive and informative. Making each class a mindful journey of inner exploration and a discovery of abilities and strengths not limitations. This is the beauty of Iyengar yoga; the fact that it is accessible to all ages.
Affi is an Introductory II certified Iyengar teacher.
Affi instructs the following:
This varied class is suitable for all levels of practitioners, from beginning to experienced students. Building on the foundational teachings of BKS Iyengar, this class will offer a continued and deepened exploration of asanas and pranayamas, with an aim towards developing and supporting a self-directed yoga practice. Come join us in building strength, confidence and stamina while nurturing and refreshing body and mind.