Nancy Sandercock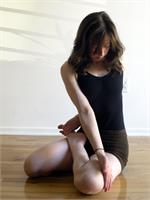 Nancy has been teaching Iyengar yoga for 20 years.
She was first attracted to yoga because of B.K.S.Iyengar's unique approach, which includes attention to body alignment and respect for yoga's philosophical lineage.
Nancy has studied with the Iyengar family many times in India, the U.S. and China.
Nancy continues her study of Iyengar yoga with the Iyengars, Manouso Manos and Paul Cabanis.
Nancy is a CIYT, Junior Intermediate III certified Iyengar teacher.
Nancy Sandercock instructs the following:
A less rigorous class with focus on relaxation. The poses are held longer and supported using props to deeply rejuvenate and calm the body and mind.