Becky (sub)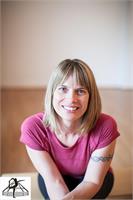 graduated from the 3-year Iyengar Yoga Teacher Training Program of Southern California and am certified at the Introductory II level. I had the great privilege of studying with Geeta Iyengar in Pune for a two-week intensive in 2014 and regularly study with many of the senior teachers including Manouso Manos and Gloria Goldberg. In my day job I am a Textile Designer and spend most of the day sitting in front of a computer. Yoga helps me combat the Ill-effects of a computer job and gives me relief from stress and fatigue. I truly believe it makes you a better person inside and out. I have a relaxed, approachable teaching style and strive to challenge students while creating a safe and welcoming environment.
Becky (sub) instructs the following:
This varied class is suitable for all levels of practitioners, from beginning to experienced students. Building on the foundational teachings of BKS Iyengar, this class will offer a continued and deepened exploration of asanas and pranayamas, with an aim towards developing and supporting a self-directed yoga practice. Come join us in building strength, confidence and stamina while nurturing and refreshing body and mind.