Amalea (sub)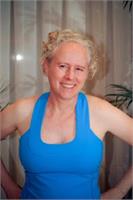 Amalea Fisher is a certified Yoga Tune Up® instructor and Restorative Exercise Institute Healthy Foot Practitioner. She started practicing YTU after experiencing debilitating neck pain and it had an immediate impact when nothing else worked. Amalea's passion and personal experience translate to all people who suffer every day pains.
Amalea (sub) instructs the following:
Yoga Tune Up® is a conscious therapy practice that combines Yoga, self-massage and corrective exercises to relieve pain, improve posture and enhance performance. The unique combination of these techniques helps identify the body blind spots, release muscle tension, and increase joint mobility. Yoga Tune Up® includes Pranayama and restorative practice, which balance the nervous system. The regular practice of Yoga Tune Up® promotes body and mind awareness and establishes healthy movement patterns. This class is recommended for people coming from any background, newcomers and seasoned movement practitioners are equally welcome.