Jessie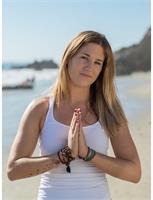 Jessie started practicing the physical postures of yoga in her early 20's to help overcome identity, and trauma issues she was struggling with. Over the years her practice has evolved and taken her to new places in her body and mind. She is a 500 hour certified teacher who really believes in the power of the breathe and the intentions we set our in our minds. Jessie loves linking postures together that are fun to flow, and are anatomically safe for the body. She thinks of vinyasa classes as puzzle pieces you put together with an intention of having practitioners leave feeling energized and whole instead of tired and worn out. An Arizona native, she loves Los Angeles and when she isn't on her mat or teaching yoga you can find her soaking up the sunlight on a beach.
Jessie instructs the following:
Hatha yoga (or Vinyasa flow) synchronizes the breath with the movements of the body. The poses run together in a dynamic and fluid fashion. This class is for level 1+ students.