Firooza Ali Razvi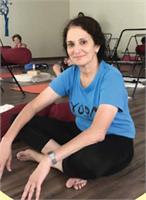 Firooza studied intensively with B K S Iyengar from 1977, & Geeta & Prashant Iyengar from 1979, & has been teaching at the Light on Yoga Research Trust in Mumbai since it was founded in 1980. With a Masters in Philosophy her clear understanding of the Yoga Sutra's of Patanjali and other ancient texts that form the basis of yoga informs and illuminates her teaching.

Firroza Ali has been practicing and teaching under BKS's guidance since 1977. Firooza was one of the founders of the light on Yoga Research Trusts in Mumbai and is now teaching conventions all over the world for the Iyengar's. The reason she is not as well known as some of her contemporaries is because she did not wish to travel whilst her children were young. The first place Firooza went to when she began to travel and teach was Scotland and now she is being asked to go all over the world
Firooza Ali Razvi is currently not instructing any classes.